As I See It: Class Warfare The Only Resort To Right Wing Doom by Egberto Willies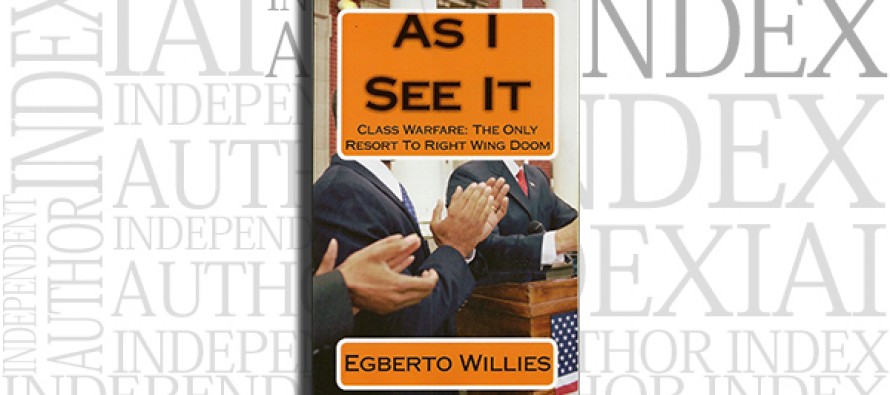 Summary:
As I See It: Class Warfare The Only Resort To Right Wing Doom illustrates the massive defects in the Right's policies that have led us to the brink of a precipitous fall over a cliff. The book provides the real narrative that should be the balance between the corporation, the government, and the individual citizen. It dispels the notion of the corporation being inherently more benevolent than the government.
Most importantly the book presents a logical solution to the economic woes of the country. Implemented over time the suggested policy changes would ensure that America lives up to the America we all expect it to be.
The author has rated this book G (all ages).
Book video:
Excerpt:
Unfortunately our free enterprise system is not working as it should for many reasons, all bad for the average American entrepreneur. Many equate free enterprise with capitalism. It is my contention that our brand of capitalism will cause the demise of free enterprise and left to its own devices will eventually make every American a unit of labor competing with every unit of labor overseas. We are in the process of becoming indentured servants to the corporation, a working commodity.
Those afforded the ability to gain the most from American innovativeness are no longer the innovators; they are no longer the entrepreneurs. We have become a society that rewards those who move capital and have the ability to cater laws to their benefit. We reward a class of people that provide no real tangible service or product of value proportional to their earnings or wealth.
The wealth and income disparity in the country is not an accident. There are many systemic reasons why this disparity will continue. As long as we have a Right Wing misinformation engine that remains effective in indoctrinating a large percentage of the population to vote policy makers into office that ultimately pass laws that is against their own financial interest, the trend will continue. The following chart shows the progressive decline in wealth of the bottom 80% of the US population.
Copyright© Egberto Willies. All rights reserved.
Buy from: