Counterfeit Dreams by Sasha Ravae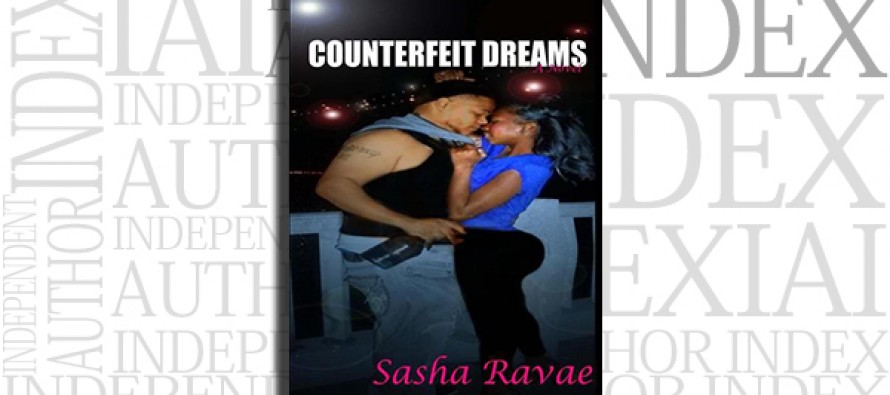 Synopsis:
Reagan Taylor's life as a basketball wife isn't as perfect as she expected. After enduring an abusive relationship for over seven years, she meets the man of her dreams. Her eyes are finally opened to true love for the first time, but will it last? Jewel Sanchez, a self-made d-boy, hustles every day to provide himself with the life he has been accustomed to since birth. As lieutenant of the M.A.C. Boys, Jewel makes sure he keeps his money close and soon his enemies closer. Robyn Johnson, a rich, party girl, is known all over Sacramento, but maybe for the wrong reasons. She often attempts to medicate herself with material objects and different men, but the pain never goes away. She was always proud of her strength, but will that be enough for her to survive? Brandon Edwards' short-fuse proves to be dangerous for everyone around him. Always use to getting what he wants, Brandon does whatever it takes to hold onto his power and respect even if that means losing a few people along the way.
Excerpt:
contains racial epithets and profanity
Chapter 1
Reagan and Styles sat on the sofa watching the basketball highlights on ESPN from his game the night before. He watched himself float down the court and mesmerize his many adoring fans. Styles was very animated, so every time he played, he put on a show. The fifty-two inch flat screen sat on the wall with the sound on mute. Reagan sat on the opposite end of their ebony leather couch wearing one of Styles' old t-shirts, and her hair wrapped in a scarf. Styles pulled her out of bed to watch the game with him, but he spent the entire time on the phone. "I know, nigga. The shit was crazy. I was doing my thang though. A nigga is really tryna show out cause I gotta renegotiate my contract in a couple months." Styles got up and continued his conversation in the kitchen. Reagan sat with her arms folded across her chest. She was beyond irritated. Styles had been in town for a few days, and this was the first night she had seen him. His team had a home game in Oakland, but he refused to let Reagan go. He always told her she was a distraction. "Cameron, are you serious, babe?" Reagan whined. "Let me call you back, nigga," Styles said putting his phone down on the grey granite countertop, "My bad, Rea. I'm just excited. This is my best season ever. People are really starting to pay attention to a nigga. Do you know what that could mean for me?" Reagan got up and walked toward their bedroom. "Well, I'll leave you to yourself, Cameron." "Damn, Rea, okay. Let me change my clothes, and then we can watch those 'Bad Girl' bitches or something," Styles said grabbing Reagan and setting her down back on the couch, "I'll be right back. Then it's just me and you. Promise." Reagan loved Styles. They had been together for seven years. He was all she knew. She was there before all of the money and the fame. But ever since Styles got drafted into the NBA by the Golden State Warriors, two and a half years ago, their relationship changed. He provided greatly for her, but soon he replaced his time, love and affection with jewelry, clothes, and money. That wasn't enough for Reagan, but she decided to let her frustrations go for the moment and enjoy the night. Reagan heard the shower turn on in the bedroom. She walked into the kitchen and opened the stainless-steel, double-door refrigerator and grabbed a bottle of water. Styles' phone started ringing on the counter. Reagan didn't recognize the number. She and Styles got into it so many times about her going through his phone. He paid the bill, so he felt whatever was in it was his business. Reagan tried to restrain herself, but the voicemail icon taunted her. Fuck that, she thought, If it's nothing then it's nothing. Styles changed his password more than he changed his clothes it seemed, but somehow Reagan always figured it out. "0-4-1-6," Reagan said out loud. "You have entered an incorrect password. Please, try again," said the automated voice. Reagan laughed. Every time Styles had to change his password, he would set it back to the default password until he thought of a new one. "9-9-9-9. Stupid ass," Reagan whispered to herself. She heard a female's voice. "Hey, baby. I had fun last night. I hate that you left this morning. I miss you already. Call me, k?" Reagan was heated. She ran into the bedroom and threw the phone at Styles who was sitting on the bed putting on his clothes. The phone barely missed his head.
"What bitch were you with last night?" Reagan asked with tears lining her cheeks. These arguments were so typical. Reagan expected groupies to be a part of Styles' new life, but she didn't think he would ever go for them. But to him, this was the life of a nigga in the league. "Get outta here with that shit, Rea." Styles grabbed his phone and saw he had a missed call from Lanae. He met her while he was in town a couple of months ago, and he saw her from time to time when he came home. "Now you can't answer? Nigga, fuck you. I keep going through all this bullshit for what, Cam? So you can leave me at home by myself while you go out and fuck the world? I'm cool." Reagan grabbed her Louis Vuitton luggage set down from the closet and snatched random clothes and stuffed them inside the bags. She didn't know what she was bringing or where she was going, but she had to go. Styles got up and took the bags out of her hands. "You're doing hella extra ass shit." "Fuck you," Reagan spat, "These hoes are steadily popping up, but I'm not supposed to say shit. Fuck that! All the money in the world ain't worth this shit. You're not worth this shit." She grabbed her duffle bag from Styles. He allowed her to pack up her side of the closet. She was struggled to fit everything in her five-piece set. "So, where are you going, Rea?" Styles laughed. Reagan's episodes were funny to him. He knew she had nowhere to go, and he was all she had. "To my nigga's house," Reagan said wiping the remaining tears from her face. Styles' shot into the closet and grabbed Reagan by her throat. She clawed at his arms trying to release his grip. "Bitch, where?" Styles looked at her like he expected her to answer. Reagan knew he would kill her if she ever cheated on him. The thought alone sent him over the edge. "You won't ever leave me. Know that, okay?" Styles kissed Reagan on her lips and let her body drop to floor. She gasped for air coughing until she caught her breath. Reagan sat on the closet floor massaging her neck. Styles grabbed his phone from the bed and disappeared back into the living room.
Copyright© Sasha Ravae. All rights reserved.
Buy from: