Deuces Wild by Jean Holloway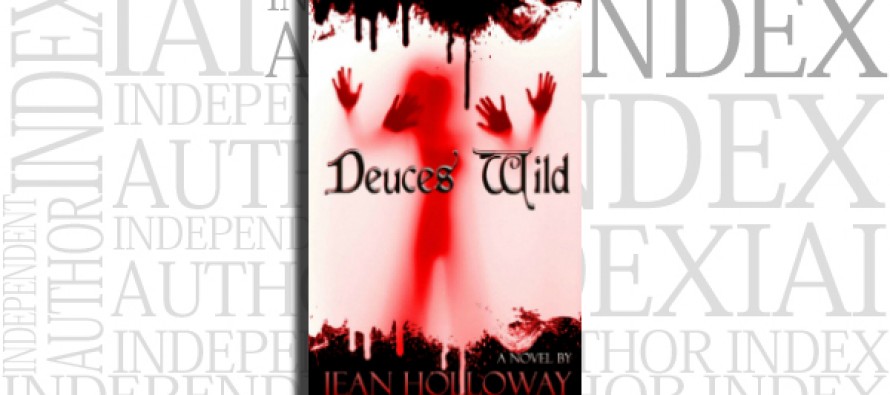 Summary:
Three years have passed since the Black Jack case ended. Now, in the fiendishly evil and sexy as hell third novel of the Deck of Cardz series, Deuces Wild, Detective Shevaughn Robinson-William's career and personal life are at a crossroads as she tries to assist in the capture of a homicidal couple on a murdering spree filled with illegal drugs and illicit perversion.
Meanwhile, Shevaughn's idyllic marriage is beginning to crumble, secrets revealed have a profound impact on her and her entire extended family and to top it all off, her daughter seems to be communicating with a supportive spirit who is trying to warn Shevaughn about her marriage and help her solve the case.
Should she comply with her husband's wishes and save her marriage or will she lose him to her career?
Shevaughn tracks the feral couple as they go on a tri-state rampage of lethal depravity, proving their commitment is one without morals, conscience or boundaries. Sometimes, love can be murder…
Excerpt:
Thank God! It's Friday, was Lark McMillan's last thought before she snuggled under the covers next to her husband and dozed off. After a long, mentally exhausting week she slept soundly in their queen-size, waveless waterbed. A few hours later, she rolled to her left side and reached for Karl, only to find the sheets empty and cold. Alarmed, Lark instantly sat straight up, panting, unable to catch her breath. Where is he?
Her heart began to pound and she couldn't help but listen to the ominous thuds as they resonated loudly in her head. She lay perfectly still in the after-midnight darkness and took several deep breaths, forcing herself to calm her nerves. Looking down, she saw her fists tightly clutching the sheet and blanket. Lark slowly willed them to open and let go.
After the drum-like sound faded, she thought she heard a soft whisper. Or was it more like a muffled groan? She convinced herself that she heard the hushed sounds of stolen, illicit sex and then she knew exactly where he was. She also knew she couldn't lay there and pretend it wasn't happening. She saw the stolen glances of lust and embarrassment between the two of them and tried to ignore it, but her suspicious nature told her she was playing the fool. She prayed that she would see nothing concrete to fuel her suspicions, but instinct told her that she had a right to be concerned…
When they met seven years ago, he seemed like a really nice guy – the answer to a single mother's prayer. It was early December and one day, after leaving work at the courthouse, she'd gone to Toys R Us to do a little early Christmas shopping for her eight-year-old daughter, Dahlia. She and Karl simultaneously reached for the last Strawberry Shortcake lunchbox on the shelf. She wanted it because Doll, as her daughter was affectionately called, resembled the illustration. Lark appreciated his chivalry when he graciously capitulated.
"Here, you take it. Looks like we have the same taste in toys for our little girls. I'll find something else for my niece. I'm Karl, with a 'K', McMillan," he introduced himself. She instantly recognized that even their names had symmetry.
Lark swiftly looked him up and down. He stood a shade under six feet; several inches taller than her five-foot-three with two-inch heels. But all in all, Karl was not a bad-looking guy. His receding hairline, coupled with his blond shoulder-length ponytail, said that he had a hint of rebel in him. His eyes were the darkest brown, almost black, but there was nothing ominous about them or his appearance. She offered to help him with finding a replacement toy for his niece. Together, they settled on the Cherries Jubilee edition of My Little Pony. Pleased with their gifts, they stood in the checkout line waiting to pay when he asked if she had enough time to have a drink with him. They went to the phone booth outside the store so that she could check with her next-door neighbor, who watched her daughter when necessary. After her neighbor's approval, she was good to go. Drinks led to dinner and before she realized it, night had fallen. Always the gentleman, he walked her t o the "L" and they exchanged numbers while waiting for her train. Lark hoped she would see him again. She thought about how great it would be to have a nice guy in her life.
After a slow start, they began dating exclusively. She wanted everything to be perfect, so unlike her occasional one night stands, she waited before giving herself to him. On their first night together, he pleased her in every way imaginable, making it well worth the wait. Four months later, in late May of 1978, Lark finally admitted to herself that she had fallen head over heels for the man. She brought him home to her tiny, one-bedroom apartment to meet her only child, Dahlia. She'd been a little hesitant at first because in the past, there were several men, like her parents, who believed raising a bi-racial child was not an ideal situation. If she listened to them, she would have given her daughter up for adoption long ago. Hell, I may have even given her up at birth.
Her parents never met their granddaughter's father and didn't care that he had been a decorated Vietnam War casualty. She didn't realize how racist they were until she'd shown up at their door with her baby. Her father refused to acknowledge the child at all and her mother… Well, she was a piece of work too.
"At least she doesn't look like a Negro!" Lark's mother joked, in poor taste, as she took the baby from her arms. She laid Doll on the plastic-covered, gold brocade couch and opened the pink blanket to take a peek at her grandchild. Without a word, Lark hastily bundled her daughter up and left her parents' home. She hadn't spoken to either of them since. The last time she saw her mother was at her father's funeral and they acted like strangers and ignored each other through the entire service and burial. It hurt her deeply to see her sister and brother take her mother's side of the dispute. Bunch of bigots, she constantly thought throughout that long, dreary day.
Lark thought the situation was ironic, since one would have never known her child's lineage by looking at her. In fact, she had yet to share the secret with her daughter. Doll had her father's brown eyes, but she was a true redhead – freckles and all. She embodied the picture of innocence and could have easily won a starring role in a Disney movie. No one thought of her as Black unless Lark chose to divulge that information. It surprised her when she heard some of the Black folks on her block refer to her daughter as a "redbone". She never felt the need to mention it, yet somehow they could tell.
Life became a struggle for the two of them. Lark was entirely alone, since her mother continued to influence her siblings. She convinced them that having a child of mixed heritage disgraced the entire family. Lark took on the responsibility of caring for herself and her daughter with a fierceness she didn't know she possessed. And yes, sometimes, she had to do things that she wasn't particularly proud of to make ends meet. She needed money to finish paying for court reporting school and after graduation she needed funds to tide her over until she got a job with the state. When Lark and Doll were together, Lark had a tendency towards spoiling her daughter. She did it to help make up for the times she wasn't there and to compensate for the lack of family members present in Doll's life. Occasionally, on the way home from school or work, she would stop and have one drink too many. Other times, she stayed out a little too late. But she always let whoever was watching D ahlia know in advance. Hell, life was short and she deserved to have some fun.
The first time she brought Karl home, she realized that all her worries were unfounded. She couldn't believe how quickly her daughter took to him and Lark could see the feeling was mutual. They had an instant, undeniable bond. It was almost as if they magically transformed into the family they all wanted to be. The three became inseparable. When she finally broke down and told him about Doll's biological father, Karl said all the right things. He told her how proud he would be to help raise the daughter of a war veteran and that race didn't mean a thing. It solidified their relationship even more. He quickly moved them into his two-bedroom apartment on Bruckner Boulevard in the Bronx. When everyone felt at home and settled, he proposed to Lark on a beautiful summer evening in 1982. She happily accepted.
Later that year, Karl earned a promotion to district manager. He was the lead salesman for a pharmaceutical company for three years running and had been a shoo-in for the position, even over some of his co-workers with more seniority.
They were married the following year on a beautiful spring day in April and relocated to a charming, yellow-shingled Cape Cod on the southern tip of Portsborough. They were now the normal, middle-class American family. Everything seemed so perfect until about six months ago. That's when Doll suddenly went from a sweet and gentle child to a moody pre-teen who carried a constant chip on her shoulder. Her freckles were fading and she started wearing makeup to help cover the few that remained. Lately, the makeup seemed a little much for a young teenager. Lark told her to cut it out, washed her face and confiscated numerous cosmetics, yet less than a couple of weeks later, Doll managed to replenish her supply and defiantly began to wear it again. The big blowup came when Doll forgot her gym bag and Lark found the skimpy, sexy schoolgirl outfit at the bottom under her P.E. uniform.
Lark had been sitting on the bed, waiting in her room which now looked like a tornado had blown through it. Everything was everywhere; her daughter's open closet door revealed it was empty, a couple of the dresser drawers were on the floor and the others appeared to be hanging on for dear life. Totally covered with rumpled clothes, you couldn't see the soft green tweed carpet. Doll walked in and ignored the obvious mess.
"Why are you in my room, Mom?"
"You left your gym bag and I looked inside. What the hell is this?" Lark stood up and held the tiny denim skirt and ruffled, shocking pink cotton midriff blouse in her left hand.
"A skirt and top?" Doll asked sarcastically. Lark ceremoniously pulled the pinking shears from behind her back.
"Looks more like dust cloths to me." She commented as she began cutting the clothes into even smaller pieces. None of this fazed Doll.
"Have fun, there's more where those came from. Now, I guess I have to clean my room. Do you mind?" Before she knew what happened, Lark leaped across the room and slapped Doll with all the strength she could muster. Horrified at her actions, Lark had been the one to run out of the room in tears.
Since then, Doll seemed to convey an undeserving disdain for Lark and she didn't even attempt to hide it. At first, Lark blamed it on puberty, but no matter how difficult it was to admit, she couldn't deny the truth any longer. She knew why Doll's attitude changed so radically. Her husband, Karl, was molesting her fifteen-year-old daughter.
Copyright© Jean Holloway. All rights reserved.
Buy from: