Honest Wrestling (Questions of Faith When Attacked by Life) by K. Howard Joslin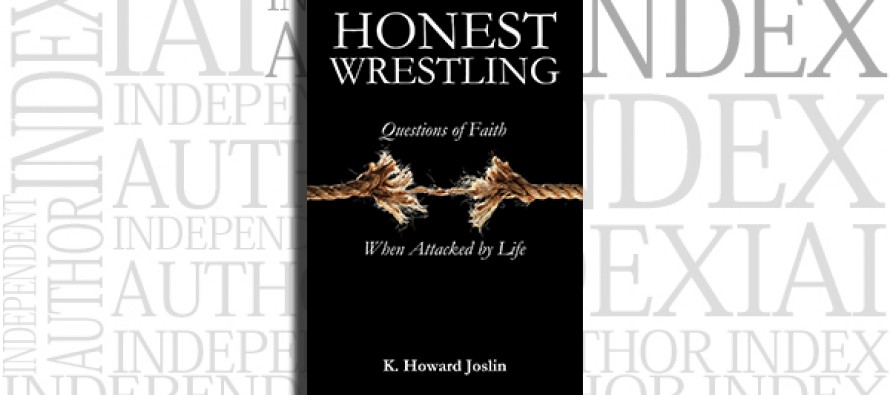 Summary:
Sometimes trials attack us so extensively, that the pain of our reality contradicts even our core beliefs. Our faith is frayed.In Honest Wrestling, we're given the rare opportunity to observe the depths of a family's frayed faith, when they are forced to face the unthinkable. In a raw and real way, K. Howard Joslin takes an intentional risk, allowing us to venture into the intimate struggles of his faith in order to come along side and encourage us with ours.
As a seminary graduate, we would expect K. Howard Joslin to have correct answers to tough questions that arise when one's faith is tested. Yet, in what seemed like a matter moments, his family was faced with job loss, three miscarriages, an unexpected heart attack, and the brutal diagnosis of a rare cancer, one that was both aggressive and incurable. Joslin finds himself in the match of his life as he wrestles with God about the authenticity of His goodness and the reliability of His promises, while grasping for hope when there is none. Writing with gut-wrenching authenticity and transparency during the heat of his battle, Joslin rejects easy answers raises questions that believers often secretly ask, but often find too dicey to reveal.
Honest Wrestling offers hope-filled perspective for those currently undergoing trials and insights for encouraging those who are suffering.
The author has rated this book G (all ages).
Excerpt:
A Broken Heart
Seminary was such a long haul that Ann felt a big celebration was in order now that it was finally over. She threw a party at our close friends' house the Sunday evening after graduation. Friends, neighbors and family gath¬ered in Jim and Laurie's backyard to help us celebrate the culmination of my "crazy idea."
I must have partied a bit too hard, perhaps too many trips to the chocolate fountain, because I suffered a mild heart attack late that night. A few days later the cardiologist inserted two stents into my forty-four- year-old heart. He inserted a third one a few weeks later.
The discouragement and depression, resentment and anger that followed were intense. I had always been relatively active, was only a bit overweight and my total cholesterol was only 185. What the heck?
Rehab
I was embarrassed by my youthfulness at the cardiac rehab center. Most of the other patients had decades on me. What am I doing here?
I was angered when we celebrated Paul's high school graduation a few weeks later at the Cheesecake Factory. There was nothing particularly "heart-healthy" on the menu—certainly not the Snicker's cheesecake. Would I ever enjoy life again?
I was absolutely overwhelmed by work. I had just started a new consulting job and needed to learn a new software product. But my confi¬dence was shattered and my energy and drive had dissipated. Finding the courage to go to work was difficult. My bank of vacation hours was al¬ready depleted, so additional time off was not an option. How could I go on?
There was a high point sometime in early July. The cardio nurses finally gave me permission to jog around the indoor track at the Tom Landry Fitness Center, wired up, of course, to monitor my heart as I exercised. My face almost started to hurt as I slowly jogged a few laps… since my grin stretched from ear to ear. It didn't matter that a turtle could have lapped me that afternoon. I was ecstatic that I could simply jog again.
Things were definitely looking up.
The Storm Strikes
About this same time Ann started to feel poorly, quickly becoming full after eating only few bites. Eventually, she made an appointment with the family doctor, who examined her and then promptly referred her to a hematologist at Baylor hospital in downtown Dallas.
The next morning, as we somewhat hesitantly got out of our mini-van, Ann fearfully asked, "What am I doing here?" At the top of building, which had an address that matched our hematologist's, was a sign that read, "Baylor Charles A. Sammons Cancer Center." What the heck?
Over the next several months, Ann went to various doctors and had numerous tests as we tried to discover what was wrong. Doctors were able to determine that her spleen was enlarged, which explained why Ann didn't have an appetite, but they couldn't uncover a cause. Thankfully, they did rule out leukemia and lymphoma.
Each appointment brought fear, uncertainty and discouragement, with a bit of relief sometimes mixed in. Ann's constant concern was, "What if I have cancer?"
Index Cards
What does one do when he or she is being suffocated by a valid fear of an uncertain future? Ann's response was to turn to her Father through his Word. I believe that it was during this initial uncertainty that Ann began to write out encouraging Bible verses on 3 x 5 index cards. She took these cards with her to the doctor's appointments and would flip through them as she waited. Here are a few of her cards:
"The LORD is good, a refuge in times of trouble. He cares for those who trust in him" (Nahum 1:7).
"The LORD your God is with you, he is mighty to save. He will take great delight in you, he will quiet you with his love, he will rejoice over you with singing" (Zephaniah 3:17).
"So do not fear, for I am with you; do not be dismayed, for I am your God. I will strengthen you and help you; I will uphold you with my righteous right hand" (Isaiah 41:10).
"Find rest, O my soul, in God alone; my hope comes from him. He alone is my rock and my salvation; he is my fortress, I will not be shaken…Trust in him at all times, O people; pour out your hearts to him, for God is our refuge" (Psalm 62:5-6, 8).
"Have mercy on me, O God, have mercy on me, for in you my soul takes refuge. I will take refuge in the shadow of your wings until the disaster has passed" (Psalm 57:1).
Praise You in This Storm
Our family traveled to Colorado again that July for our annual hiking trip in Rocky Mountain National Park. We always enjoyed fleeing the concrete and congestion of Dallas to enjoy the majesty of the mountains, while hiking our legs off.
Our custom was to spend at least an evening mulling around the fun shops in the picturesque town of Estes Park. I wasn't into shopping that night and was worn out from hiking, so I opted to head back to the minivan ahead of everyone else. I turned on the stereo while waiting for the gang and listened to "Praise You in This Storm," a song that Paul had just introduced to Ann earlier on the trip.
I'll praise You in this storm. And I will lift my hands, For You are who You are, No matter where I am.
Every tear I've cried You hold in Your hand. You never left my side.
And though my heart is torn, I will praise You in this storm.
I wept as I heard these words for the first time. It's funny what goes through your head in certain moments. I remember thinking something like,
"Wow! What an awesome song. It totally describes what we have already been through. More than eight years of seminary. Next my heart attack. Then Ann's mysterious illness.
Wow! It's been tough. I'm so glad it's all behind us."
Broken-Hearted
Ann had another doctor's appointment soon after we returned from our escape in Colorado. The hematologist recommended diagnostic surgery, because Ann's spleen was still enlarged. A surgeon would remove the spleen in an attempt to discover the underlying cause, perhaps the residual effect of an infection. Ann's surgery was July 27th, 2006, and Baylor's waiting room was full of our friends and family. Her surgery went well, but the surgeon slugged us with the report that her spleen was full of cancer. The next morning the oncologist crushed us with the preliminary diagnosis, stage IV mela¬noma.
That's heart-breaking news for two reasons. First, melanoma is the deadliest type of skin cancer, and if it has spread to other organs, then it is generally not curable. Second, a staging of "IV" is the most severe assess¬ment of the cancer's progression and indicated that Ann's cancer had spread significantly.
Shock
What does a wife and mother do when she learns that what she had feared most is now her reality, that she does have cancer?
I think the news of that preliminary diagnosis sent Ann into some kind of shock. She didn't show any emotion for several days. She didn't cry when our kids came into her hospital room after hearing the news. She didn't cry when friends came to visit. She didn't cry when she saw me weeping in the hospi¬tal chair next to her bed.
What does a man say to his wife who just learned that her life could end within a year? Without adequate words and nowhere else to turn, I opened up my Bible to Psalm 1 and began reading. I read aloud through the psalms while Ann lay silently in her hospital bed with her eyes closed.
Silent Sobbing
After the initial shock subsided, Ann's emotions began to pour out. More than anything, she wanted to live so that she could continue being a wife to me and a mom to our four kids. This desire so overwhelmed her that she was compelled her to ask God to deliver her from cancer. Those emotions were so strong that she often laid on the bedroom floor, weep¬ing and pleading with God for her life.
"In bitterness of soul Hannah wept much and prayed to the LORD" (1 Samuel 1:10).
Ann prayed because of a gut-wrenching, throbbing pain in her soul. She sobbed a flood of tears. She urgently begged the Lord for her life. The longing was so intense that her pleading was often silent, even though her mouth moved as tears flowed down her cheeks.
"As she kept on praying to the LORD, Eli observed her mouth. Hannah was praying in her heart, and her lips were moving but her voice was not heard" (1 Samuel 1:12-13).
Just as Eli observed Hannah's prayers, so I observed Ann's. But unlike Eli, I concluded that the intensity of her burden was from the Lord and not from a cheap bottle of wine (1 Sam. 1:14). Was it possible that this "desire of her heart" was placed there by her Father so that he could answer her prayer? It was for Hannah, when she prayed for Samuel. It was for Ann, when she prayed for our Hannah.
A Pool of Tears
What does a man do when he finds out his wife has a potentially incurable cancer? I cried. A lot. I had to return to work after Ann got out of the hospital. I cried my way through traffic to the office each day, as I listened to "Praise You in This Storm" again and again. The lyrics became my prayer.
I was sure by now God you would have reached down And wiped our tears away, Stepped in and saved the day.
But once again, I say "Amen," And it's still raining.
Late July evenings in Dallas are still way too hot for a guy with a heart condition to go jogging around the neighborhood, so I swam laps at the neighborhood pool several evenings a week. This gave me a chance to strengthen my heart and to release some stress and grief.
I screamed and cried as I swam.
God of the Ten Percent: Does God Hear?
The morning after Ann's surgery our hematologist and his nurse DeeDee came into our hospital room to discuss the initial inferences from Ann's diagnostic surgery. The preliminary pathology report indicated that Ann had stage IV melanoma—with a certainty of ninety percent.
We were crushed. I fought to maintain composure and tried to focus attention on what the doctor was saying. It's funny sometimes the things that run through your mind in difficult moments. All I could hear was a recent conversation with Tom, a co-worker, whose wife had stage IV melanoma. Doctors had recently told them that Jackie only had three months.
Three months? Could Ann really be dead in a few months?
DeeDee, a Christian oncology nurse, whom we had already grown to love through the various appointments, must have sensed both our shock and the Holy Spirit. She stayed behind to comfort us after the doctor gave his report.
She asserted that "God is the God of the ten percent" and that he can override any statistic. She then confidently prayed for God to override the nearly certain diagnosis.
I was amazed by her faith. DeeDee had surely seen, as an oncology nurse, countless lives ravaged by cancer. She had to have a firm grasp on reality. Yet she also knew God. And she knew God was bigger than a pathology report, bigger than cancer itself. So she prayed.
I was encouraged by her prayer. But to be honest, I was a bit skeptical. God can do miracles, but he usually doesn't. And miracles usu¬ally happen overseas on the mission field, not here. And I certainly had no basis to expect that God would do a miracle for us.
What Are Your Symptoms?
Four days later we went to a different oncologist, since Ann most likely had melanoma, in order to receive the official diagnosis and to understand options for treatment. Several friends, Pastor Charles, and our oldest son, Paul, accompanied us to the doctor's office, visiting with us while we waited and praying for us while we met with the oncologist. My friend, Jim, whose wife, Laurie, had just completed chemotherapy for breast cancer, was there to help ask questions and take notes.
The oncologist abruptly began the appointment with a shocking ques¬tion, asking, "What are your symptoms?"
Ann's spleen was full of cancer and you ask, "What are your symptoms?" What the heck?
He went on to explain that the pathologist had been unable to determine the type of cancer that had overtaken Ann's spleen. But he was certain that it was not melanoma. One hundred percent certain. I was stunned and humbled. God had indeed answered DeeDee's impossible prayer. God was certainly "The God of the ten percent."
He Hears
It would be impossible to overstate the impact that this answer had on my faith and on my relationship with the Father. Though I never had a guarantee that God would deliver Ann from cancer, I can honestly say that I never again doubted that he heard our prayers.
Even after Ann's death, when I literally wondered if God even existed, I still had every confidence that God had paid attention to our prayers. The heavens hadn't been shut; it's just that God's answer was an emphatic, "No!"
Nineteen Days: Where is God?
Nearly three months had elapsed between Ann's first doctor's appoint¬ment and her diagnostic surgery. We had to wait overnight in the hospital room before we received a preliminary (and incorrect) diagnosis. We had to wait four more days for the initial (and shocking) appointment with the new oncologist. We then had to wait four more days before the pathologist finally figured out the type of cancer that was attacking Ann's body.
I was tired of waiting and ready to take action. There was a time bomb inside Ann and it was just ticking away.
The oncologist in Dallas recommended that we obtain a second opinion, especially since Ann's cancer was so rare. So I called the world-renowned M.D. Anderson Cancer Center in Houston to make an immedi¬ate appointment.
The scheduler routinely informed me that the earliest available appoint¬ment was over thirty days away. What the heck?
Fighting For Us
I went for a walk that afternoon around the neighborhood, as I often did when needing to pray. I don't recall what I prayed, but I know I was angry, frustrated, discouraged, disappointed and hurt. Where was God? Ann's cancer continued to tick away inside her. But we would have to wait at least another month before we could begin any treatment. Doing nothing was unthinkable, but there was nothing we could do.
I was helpless and hopeless with nowhere to turn. Why had God abandoned us?
The next afternoon I was driving from my office to a client's when I received a call from our friend Laurie. She had relayed our situation to her friend, Sue, a school nurse in a suburb of Houston. Sue was angered by the image of a mother of four having to wait so long for an appointment, so she began to make some calls, pleading our case. Somewhat mysteri¬ously, she obtained the phone number for the hospital's Office of President. Sue relayed the number to Laurie who called my cell phone and passed it on to me.
I'm normally not one to press a matter, but I was desperate and I had a strong inclination that I should call the number. I worked up the cour¬age and called the president's office. I explained our situation and asked if there was anything that could be done.
A few days later I received a call from the hospital informing us that our appointment would be moved up nineteen days.
Nineteen days might not seem like much to you, if you've not been attacked by cancer. But for us it was massive.
God with Us It would be impossible to overvalue the significance of this act of deliver¬ance. God had not abandoned us. He was actively working behind the scenes, prompting a friend of a friend to battle for us, when I had no means or spirit to fight.
I can honestly say that I never again doubted that God was with us in our fight. Though I had no guarantee of the battle's outcome, I had every certainty that he would be with us through the end, whatever that end might be.
We did have all sorts of questions and doubts during the two-year fight with cancer, but God's involvement in our battle was not one of them. Those Nineteen Days were proof enough. Irrefutable proof. Ironically, Sue and her husband Bill became our gracious hosts and close friends as we regularly traveled to Houston for tests and chemother¬apy over the next two years.
The Irony of God's Leading
On that Thursday (7/27), the surgeon removed Ann's spleen and in¬formed us that it was full of cancer. The next morning (7/28), our oncolo¬gist was ninety percent certain that Ann had stage IV melanoma. The following Tuesday (8/1), a second oncologist basically told us that he had no idea what cancer had invaded Ann's body.
Late Saturday afternoon (8/5) that second oncologist called and notified us that the pathologist was finally able to determine the actual type of cancer. Ann's spleen had been overtaken by an extremely rare, aggressive cancer called angiosarcoma. We returned to the first oncologist, who recommended receiving a second opinion.
A month later (9/5), an oncologist from M.D. Anderson confirmed the brutal diagnosis. To make matters worse, the tests showed that the cancer had already spread from Ann's spleen to her liver, as well as to the bones in her pelvis, ribs, and shoulder blades.
Our Reality
There are only about twenty to sixty cases of angiosarcoma diagnosed each year. There is no cure for angiosarcoma. Aggressive chemotherapy, if even effective at all, can only hope to keep the cancer in check for a period of time. The five-year survival rate for angiosar¬coma is listed as twenty percent. One website bleakly concluded that "the combination of aggressive growth, few treat¬ment options, and extreme rarity makes angiosarcoma one of the deadliest cancers."
Ann's specific type of angiosarcoma—that which originates in the spleen—is even more deadly and rare. There are less than two hundred total cases reported in the literature worldwide and the median life expectancy after diagnosis is a brief six months. Another website grimly reported that "primary splenic angiosarcoma is an extremely aggressive neoplasm that is almost universally fatal."
Ironic Diagnosis
We were crushed with the preliminary diagnosis of stage IV melanoma, because it was an overwhelming and unbeatable foe. That news robbed me of all hope. I had no expectation, whatsoever, that God would answer DeeDee's impossible prayer for the cancer not to be melanoma. After all, the doctors were ninety percent certain of their diagnosis.
When God did answer DeeDee's prayer, I was totally blown away and encouraged. Hope was restored. God was indeed the "God of the ten percent" and he proved to me that he is greater than any statistic. Yet, angiosarcoma is a rarer and more aggressive cancer than mela¬noma. As described above, the life expectancy after diagnosis is a mere six months and it is "almost universally fatal." God dramatically slew one monstrous opponent and then threw us into the arena against a stronger and more vicious foe. Here's the irony: I was encouraged by this and my hope was restored. I learned that the size of my foe was irrelevant when God was fighting for me.
Daniel 3:16-18
"Shadrach, Meshach and Abednego replied to the king, 'O Nebuchadnezzar, we do not need to defend ourselves before you in this matter. If we are thrown into the blazing furnace, the God we serve is able to save us from it, and he will rescue us from your hand, O king. But even if he does not, we want you to know, O king, that we will not serve your gods or worship the image of gold you have set up'" (emphasis mine).
Copyright© K. Howard Joslin. All rights reserved.
Buy from: