Proper Secrets by Rachel Francis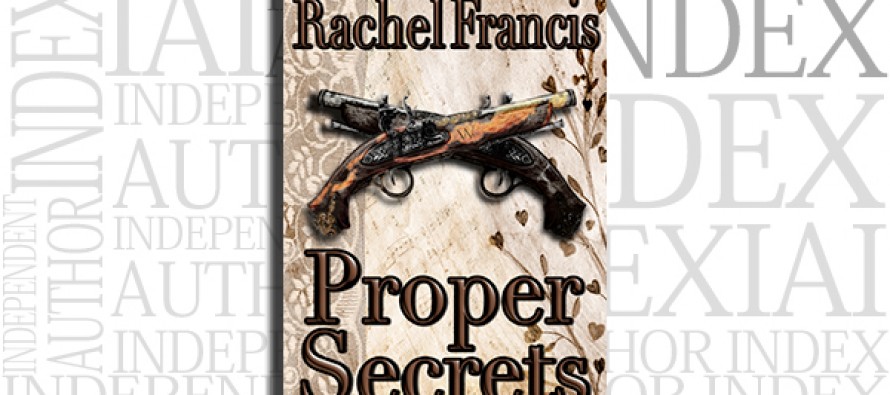 Summary:
Proper Secrets is a love story set in an alternate Europe akin to the Regency England period. Truth and consequences are central to the book, for good and for worse. Emily Worthing is a strong-minded, practical country lady, determined to stay unwed and keep her independence. When the Wingraves move into Reddester Hall, Emily and the rest of the Worthings are challenged to keep their principles as day by day they grow to love a family that won't allow anyone close enough to find out their true purpose.
It takes no time at all for the Wingraves' troubles to follow them to Tripton in the form of Jude Annesley, a disowned man rife with depravity and disorder. Unable to fool Emily with false charm, Jude plots a course of revenge that will strip away all pretense, leaving no secret intact.
The author has rated this book PG-13 (questionable content for children under 13).
Excerpt:
A passing carriage wheel flung a rain of slick mud high in the air, which landed in the only proper place—Emily's dress. She froze in horror as it absorbed a brown most unbecoming to females of elegance. Shielded from the onslaught, Bridget gaped at the sludge dripping off her sister's clothing. Were she not born into a respectable family, Emily may have let slip a word worse than the color now soaking through her undergarments. As it was, she couldn't speak without fear of humiliating herself further.
The carriage came to a sloshy halt when the occupant became aware of the condition inflicted on her. A man alighted from the vehicle, pleasing in stature, with a charming face and manners. He addressed them straight away, after dodging over several more puddles in the street.
"My most severe apologies, Miss. I will have another dress made for you in recompense, or this one professionally laundered should it be a favorite," he said. Jaw wide open, Emily made no reply.
"Excuse my sister, she must still be in shock," said Bridget, nudging Emily out of her embarrassment. Looking between her sister, the gentleman, and the ground, Emily worked to gather her wits.
Buy from: