The Deep Confessions of Faithful Men by Chris Strickland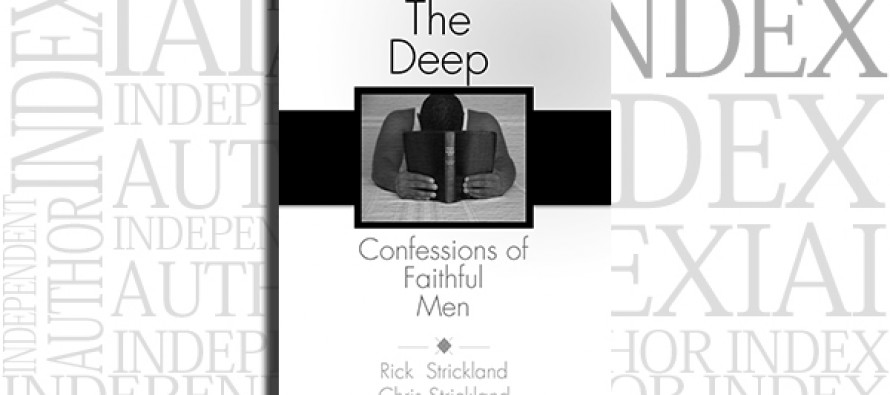 Summary:
Inspired by two of the biggest issues we face in America: marriage and infidelity. What if you could really know the deep down secrets that men keep buried inside that only God, themselves and a few close friends know about? What if you could really find out, why men cheat? In this book, men are finally at liberty to tell the whole truth and nothing but the truth. Women can finally get true confessions to questions they've always wanted to know. They learn not only to think like a man, but to be the kind of lady that men cherish in long term relationships.
The author has rated this book R (not suitable for those 17 and under).
Book video:
Excerpt:
Introduction
Why write another book about male/female relationships? Why regurgitate the same relationship myths and assumptions? Why do we need another one? This book is for those who want to add structure back to their families, to make relationships stronger, to make marriages affair proof, and to provide a roadmap for change in the lives of our children. We believe the way to accomplish these changes is through the hearts of men.
Since the beginning of time, men believed actions spoke louder than words. We are known to be action oriented individuals. We are protectors and providers. If there is a problem we try and fix it. If our family is in danger, we protect them. It is what we've been taught from our youth. We are taught to become a pro: a protector and a provider. We were never really allowed to express how we felt about certain things. When we were kids playing a sport, if we got hurt we had to tough it out. Crying was not an option. We may have stepped out for a play or two, but we had to get right back in the game. We learned from a young age not to express our true feelings about things. As a result of this we stand in the position that we do today: though we are physically the stronger of the human creation, yet we are unable to express our most intimate feelings. This is a real challenge to our manhood. It's not so much that we are unable to express our feelings. It's more so that we are not "allowed" to express them. All of our life it has been prohibited. Part of it is due to our protective instincts as men. We don't want to emotionally hurt the person that we are dealing with so we withhold the truth. The other part of it is our upbringing. We just simply have not been raised to express intimacy or our true feelings. These true feelings are what make up the deep confessions of faithful men. It's how we really and truly want to respond to things, but haven't been at liberty to do so. We believe that if we can uncover the layers of true confessions buried deep within men, our families will turn around. Our children will respect their elders once again. Our little girls will know the true worth of their bodies and not throw them away in an attempt to gain attention. Our young men will learn to respect themselves and others. Our marriages will be rooted in love and bounded by a spiritual truth that is blessed by God. The only way to begin the process of rebuilding families is to uncover the deeply rooted confessions of men. These confessions are only known to a few: God, himself, and his closest friend.
One must ask why it is or how is it that these confessions have laid dormant within the hearts of men for all these years? The answer is simple: all for the sake of trying to find a sense of peace. We bottle up a lot of things inside of us for the sake of peace. Now here is a way to begin to release all of the stress, all of the pain, all of the suffering that we've held onto for years. We want to give men the opportunity to be open and honest without being judged by the women in our lives. We want men to finally have the opportunity to tell the truth, the whole truth, and nothing but the truth. We want to give women an understanding of what men are faced with on a day to day basis. It does not matter what religious organization a man belongs to, he is still faced with the same challenges as any other man. Once you peel back all the layers of religion and race only one thing remains; a man.
We want to first of all thank God for giving us the vision for this book. We want to thank all our brothers and sisters, our mother and father(s) for giving us the motivation to write this book. We want to thank all of our friends for participating in the surveys. We are grateful for other books out there that have paved the way for a book such as this one. We feel as if now is the time to build on what has been laid by those books. We wanted to go a little deeper and provide priceless information to the readers. In most books, men typically remain on the surface because they are afraid they will get questioned by their wives or girlfriends. In this book, we deal with questions and answer them honestly knowing that our wives/girlfriends will ask us the question(s): "Is this you?" "Is this book talking about you?" "Have you cheated?" We will have to give the answer to these questions honestly. In all actuality, it should help relationships in reading this book.
The nature of this book is what caused us to be reluctant about coauthoring it. We were afraid that being so truthful would cause our wives to believe that we were messing around on them, but this is not true. We did not even want them to think that there was even a possibility that we would. We know that there are many books out there already that get into why men cheat and are very good books and we would go as far as saying that they are great books. Most have reached the best sellers list of the wall street journal and have made money many times over, but we want to give people a top seller that not only directs us to the problems in our relationships, but gives us the reasons why the problems are happening and possible solutions to correct them. This is so important to us that we are willing to expose our deepest thoughts and feelings about things that most men only talk about in the company of other men. This information is scary but truthful and will feed the starving souls of women that are hungry for the truth and finally will be able to be set free to hunger no more. You will now have the keys to the car that was off limits and locked away in a secret place exclusively for men. You can now get in and drive to a destination that will only lead to success.
Copyright© Chris Strickland. All rights reserved.
Buy from: