The Shattered Swan by Krystiana Stacy Kelly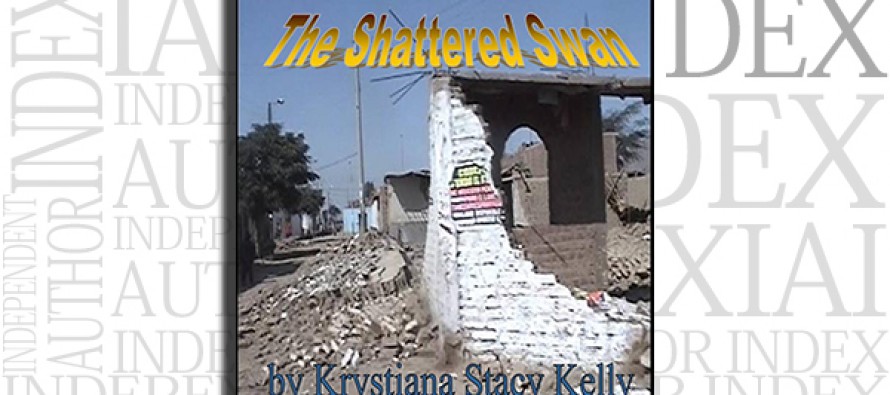 Summary:
On a trip back to Peru to visit family Tamara witnesses the murder of her aunt during an earthquake but no one believes her. Everyone's attention is on the emerging power struggles that pop up after the disaster. Her aunt's foreman and his son, a glass blower, send Tamara packing back to Chicago the day after the earthquake. Memories of the disaster follow her home – and so has a menacing stranger. The next few weeks find Tamara running for her life, forcing her to reevaluate old relationships and rely on new ones. Her survival depends on whether she finds the answers to the murder before the killer catches up with her…
The author has rated this book G (all ages).
Excerpt:
The noises began shortly before the house started moving. At first it was just a gentle tinkling sound coming from the knick-knacks in the curio cabinet. A second later the lights went out and with a jerky series of rumbling in between, the clinking glass fell and a roaring whoosh physically filled the air.
"What's going on?" I turned to where my aunt had been standing. She was gone. The floor shook. I stood up from the sofa. In the darkness I felt, rather than saw, people milling around.
Sergio, my cousin, materialized as if from nowhere and shouted at me, "Don't move. Stay where you are." Then he was gone too.
The tile floor rolled beneath me in ripples. Shocked, I stood obediently in front of the sofa as if held by some unseen force. Things were falling down around me but I continued to stay where I was. Then I felt a sharp pain in my head. Flashes of light pulsated under my half closed eyelids and my body was forced forward. I tripped over the glass table in front of me and fell. After lying sprawled on the floor for a moment feeling dazed, I decided to get up – numb and reeling from confusion.
My hand hit something as I fumbled to get to my feet. I picked it up and felt it absentmindedly with one hand while using the other to test for blood on my scalp. Feeling none, I concentrated instead on the object. It turned out to be a small crystal swan that I had seen earlier adorning the shelf above the sofa. It must have flown off its perch and come crashing onto my head on its way down. I sat up and turned to look at the wall. A huge crack slashed its way down the wall, getting bigger as I watched. I stared, able to see only faintly by a greenish glow seeping in from outside, until another rolling wave of sound and movement invaded my space. I heard the earth roar, its cadence drowning out the delicate sounds that had started the whole debacle.
It was time to get out.
I began to walk, attempting to put on my "sea legs" to adjust to the undulating floor. Making my way quickly to the front door, I put the swan into my pocket and forgot about it.
The door was wide open. I stumbled out. The ground outside seemed worse than the floor inside, lilting from side to side, rising and falling like a flattened Tilt-a-Whirl. Ragged pieces of adobe bricks were strewn all over the ground, forming an obscene obstacle course. Shuffling carefully to avoid tripping, I turned and looked up as I had done with the wall inside a moment ago, curiosity fighting the need to get away. There was a huge, gaping hole in what used to be the third floor of the house.
Surprise would have made me gasp, but dust hung thickly in the air and breathing was nearly impossible. My lungs took in quantities of the fine, tan sand that makes up the land in Ica and I leaned over, choking. Pieces of brick were still falling so I scooted hurriedly out into the street looking around me wildly.
But at least I was outside now, which felt freer – if not safer. A few paces in front of me were several family members standing in a circle. Some of them were crying. Others stood silently – shocked. They had all come to my aunt's house to welcome me home after several years in Chicago.
Through the eerie green light – its origin unknown – I counted everyone. The only person missing was Laura, my mother's sister and secretly my favorite aunt – the owner of the house, who had been at my side just moments ago.
"Where's Aunt Laura?" I asked my Aunt Daniela, who shrieked when she saw me, then pulled me into a hug like a death-grip.
"Where's Laura?" I repeated more loudly when I got no answer.
"What?" Her crying hiccupped into speech. "I don't know. Where have you been? We were looking for you."
It crossed my mind briefly, and a little resentfully, as I glanced at the circle of my relatives that I had been standing inside for what seemed like hours – had they actually looked for me? But then I peered at the house again. It sat precariously on the once firm ground, engulfed in a murky darkness. The rest of it could fall down at any moment for all I knew – would I have ventured in to look for someone under those circumstances? Would I have even had the presence of mind to know that anyone was still in there? These thoughts passed through my mind as if I were in a time warp while I grabbed Daniela to keep steady as the ground continued moving.
My heart flipped over at the thought that someone could have been crushed under the huge pile of rubble that used to be the right side of the house. Then I turned my focus back to my Aunt Laura… where was she? I stared blankly at the wreckage in front of me a sick feeling shooting through my stomach and up into my throat. Maybe there was someone under those bricks… maybe Laura…
Desperate to find her, I stumbled around the circle grabbing the arms of everyone that I saw, happy to see them but asking them frantically if they had seen her. No one had. They all started shifting nervously, sensing my alarm. I heard several of them call out to Laura and the circle broke, people scattering in all directions.
I started off alone down the longest path that curved around the house to the North. Despite my sense of hours having passed, it had only been about a minute and a half since the movement had started – we were halfway through a 3-1/2 minute earthquake. Perhaps, having seen what had happened to her house, she had gone to check on the rest of her property. Her vineyard, in the family for generations, was like the child that she had never had. The entrance to the rows of grape vines lay up ahead and to the right at the end of a long path. The shores of the lagoon on this side were at the end of a smaller trail that led in an entirely different direction, rarely used anymore. I made my way toward it, pausing when I heard sounds that might have been voices from a lagoon towards my left.
Starting down the trail as I got closer to the water, I strained my eyes. There were two shadowy figures standing under the large willow tree that hung over the small lake. At least I thought they looked like the silhouettes of two people, but I couldn't be totally sure. I needed to get closer. All of a sudden the ground stopped moving, throwing my guarded gait off completely, and I tripped on a fallen branch that was lying across the path. My arms flailed around looking for something to grab. Finding nothing, I ended up on all fours, my knees and wrists smarting from the impact.
From behind me I started to hear people calling to each other, but they weren't coming in my direction. I thought I heard them yell for me but I was focused on finding Laura, so I didn't try to call out. Wincing, I got slowly to my feet. Some wetness dripped down my leg. I reached down with a shaking hand and touched the wet area.
Copyright© Krystiana Stacy Kelly. All rights reserved.
Buy from: