The Spinsterlicious Life by Eleanore Wells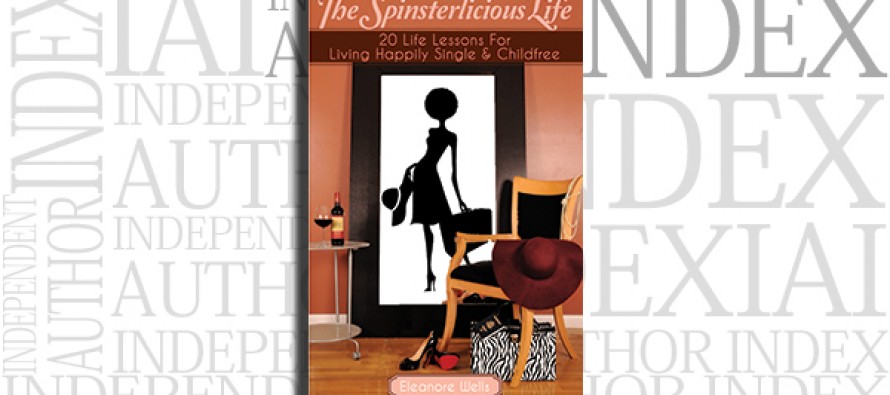 Summary:
The Spinsterlicious Life is funny, clever and insightful–a must-read for anybody who finds herself (or himself) proscribed by society for not being coupled-off. It's an intimate and laugh out loud handbook for those who are single by choice or circumstance.
This is a spirited, page-turning take on single life. Don't expect Eleanore Wells to be the single woman you want or expect her to be. She's too awesome for that!
The author has rated this book PG (not necessarily suitable for children).
Book video:
Excerpt:
So here's the deal. I am a bit of a serial dater, so over the years many friends have encouraged me to chronicle some of my adventures in dating–even though most of my relationships have been normal and uneventful. Since those don't make interesting stories, I don't really talk about them. The best stories come from the more unconventional relationships and I have quite a few of those because I like playing there.
My adventures in dating didn't jumpstart my writing about my life, rather it was an encounter I had with a woman I hadn't seen in a few years. We bumped into each other at a party and before I could answer "How are you doing?", she asked "Are you married, yet?" A lot of people ask me that and I always feel I have to have a quip ready: one that seems lighthearted but hopefully also conveys that I think it's a bizarre question. I don't mind being asked if I'm married, but the 'yet' implies that getting married is something I must do. But I never really thought so.
Marriage was never in my plans and I've always thought that was fine. Not everybody agrees, though. When I'm talking to people-usually women–and they learn I've never been married, some of them look at me with pity. Others look blank, like they're trying to hide their real reaction. Still others look smug, which is particularly funny since many of them don't know where their husbands are half the time, they can barely tolerate being in the same room as their spouse, or they haven't had sex with each other in an eternity. A woman in a genuinely happy marriage is rarely smug. She knows that marriage has its ups-and-downs, that it can be a lot of work, and that she is fortunate that she and her husband have figured it out. The genuinely happily married wife is not smug because she is smarter than that. The smug ones are often working hard to keep a "secret": they're not that happy.
Other women are supportive and encouraging: "Don't worry. He's out there. You just have to keep looking". Sometimes I just smile. When I tell them that I never really wanted a husband, the conversation can get awkward. They may be confused, which is understandable, since most people do want to get married. Some become defensive, though, and those are the ones who amuse me the most. It's as if they think that my decision somehow reflects negatively on them and the choice they made. It doesn't. So I wrote my first essay about my choice not to be a wife or mother. The dating stories came later.
My choosing not to have kids can also slow down a conversation, and gets a similar reaction: most people want children so there's obviously something wrong with the woman who doesn't. But is there?
Here's a story I love. One day, AJ, the son of my friend Lorraine, asked his parents "Is Auntie Eleanore a grown- up?" What I heard was "She's so youthful, she couldn't be as old as you two are!" But what he meant was something different: "…because she doesn't have a husband or any children". Even at four years old, he understood that I hadn't done what I was supposed to do.
Fast forward a few years. The New York Times1 recently ran an article that talked about the five traditional mile- stones for adulthood: completing school, leaving home, becoming financially independent, marrying, and having a child! What!? This means I'm stuck at stage three. Clearly, AJ isn't the only one who doesn't think I'm a grown-up.
It could be worse. I came across a New York Times article from 1918 called "The Third Sex"2 that questions whether women who "lack home impulses" (meaning women like me) are real women. So women have come a long way …I think.
Anyway, even though I haven't done what I'm supposed to do (marry, give birth), I'm quite pleased with the way my life has turned out. The growing number of women in the United States who don't have a husband or a child made me decide to share why this doesn't have to be a bad thing. In fact, it can be quite good.
1 Robin Marantz Henig, "What Is It about Twenty-Something," New York Times Magazine, August 22, 2010.
2 William G. Gregg, "The Third Sex," New York Times, September 15, 1918.
Here's a little background. According to the U.S. Census, 28.3 percent of adults in the United States were unmarried in 1970. That percent- age rose to 47.2 in 2010, and a 2011 study by the Pew Research Center found that the number of U.S. adults who are unmarried is now 49 percent, a record low. That's right: almost half of U.S. adults are not married.
To be clear, this number includes not only those who have never married, but also the divorced and widowed. Still, it looks like more and more people are discovering what I already know: being single has a lot of appeal (except, of course, for those who are widowed and didn't really choose their single status).
And if we focus just on the Never Married, that description fits 20.6 percent of white women in the U.S. in 2010, and 41.4 percent of black women.3
Interestingly, according to the New York Times, more than half of adults in New York City (where I live) are single. I have no idea what that's about but if you're single and want some like-minded company, New York is the place to be.
Perhaps even more interesting, more women than ever are choosing not to have children. Nineteen percent of women between the ages of 40–44 have no children, which is almost double the percentage from thirty years ago.4 I find this interesting because it seems there is the belief that if you have a uterus, you should use it, but many are saying "not necessarily."
Anyway, this book is for any grown woman who hasn't married or procreated…maybe for the time being, maybe forever and for the people who look askance at her. Every- body needs to lighten up. Being single without children is not the norm–yet–but there's a lot that's really good about being single, free, and unencumbered. Naturally, there are some trade-offs. This is my story and my own lessons, but I'm hoping that my words will help someone who needs assurance that this can be a really nice life.
3 U.S. Census Bureau, http://www.census.gov/compendia/statab/2012/tables/12s0056.pdf
4 U.S. Census Bureau, http://www.nytimes.com/2011/05/10/us/10birth.html
Copyright© Eleanore Wells. All rights reserved.
Buy from: