Topaz and the Plum-Gista Stone by Pat Frayne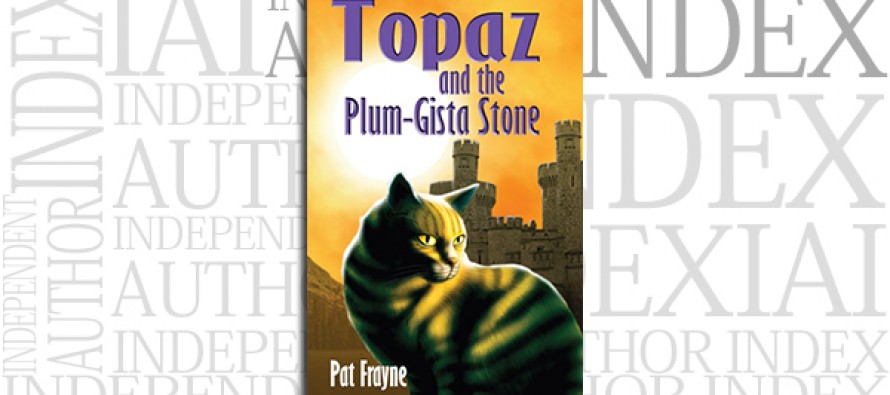 Summary:
Topaz and his raccoon friend, Dooley, face life-threatening dangers as they try to help an old friend. Their search for a rare and precious stone compels them to travel to a forbidden land inhabited by mysterious being. Topaz wonders if his conjure powers will be enough to protect them from the dark magical forces that are beginning to close in.
The author has rated this book G (all ages).
Book video:
Excerpt:
That afternoon, the sky, which was usually ashy to smoky-gray in color, changed to a murky shade of charcoal. The sky was not the only notable change. Topaz began to feel the pressure of an invisible weight bear down on him, and he could taste the bitterness of something evil on his tongue.
They continued their climb up the steep mountain in silence. They had gone quite a long way before stopping to rest this time.
"This must be what Heak meant when he said the crystals would warn us," Dooley said, examining his own. It had turned as dark and muddy looking as the sky above.
"Yes," Hoc said, his voice was but a feeble whisper.
"We must be in the witch's domain."
All of them were tired and achy from the unrelenting climb. Yet, they dared not stop for long. There was still quite a good distance to go before they reached the top. The trail ahead, besides being steep, was littered with big rocks and bare roots. Hoc and Boc would have to pay close attention to where they planted their feet if another fall was to be avoided. They were grateful there was no wind.
As they rounded the mountain, the plateau above came into view. It's where they expected to find the Witch of Strang. Though their hearts were filled with dread, Topaz and his companions pushed on.
Then, as if some wicked form of dark magic was about to swallow them, a thick smoggy mist began to swirl up the mountain. In moments the Dorn brothers couldn't see anything below their knees.
Copyright© Pat Frayne. All rights reserved.
Buy from: