Words of Traitors: 7 Lives In Transition by James Curcio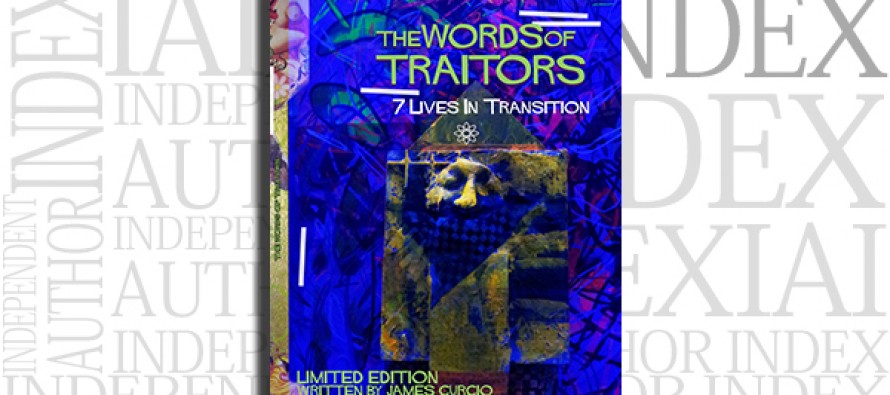 Summary:
Hope and faith, sex and death, excess and deprivation, loss. An illustrated collection of treacherous memories. These dark modern fairy tales will stick with you long after you've put the book down. "Beautiful!" -David Mack, (Kabuki, Daredevil, Dexter.) Full color art by an international collection of artists.
The author has rated this book R (not suitable for those 17 and under).
Book video:
Excerpt:
I'm sitting, my arms wrapped around my legs, staring at ants crawling to and fro on the pavement. This was once a pastime of mine, when I was a child. When you are a certain indeterminate age you can do things like spend hours a day watching ants. Eventually there are groundings and girls and grades and abortions and jobs and you pretty much forget altogether about the world that the ants live in. That is, until a moment like now.
If they've missed me over the years, they show no sign of it. Dutiful. Dedicated. Did you know that they will build a bridge out of their very bodies, drown themselves, just so that others can cross a stream?
Don't judge. It isn't the ants themselves that fascinated me, even as a child. It is the scale that they live in, and the truly magical way that they self-organize. I know it isn't really magic, but we have no other word for it. Magic is what we call things that we don't understand. (We don't really understand anything, when you get right down to it, so the truth is that the entire universe is magical. But that's something else entirely.)
I can hear sirens in the background. The cops, dutifully, are arriving in a rush, and there will be questions and I'm sure at some point I'll have to deal with the emotional weight of what just happened. But for right now, there's just me and the ants— the not-so-benevolent God and His useless subjects. Sometimes I would squash one of them and watch it wriggle. It wasn't viciousness. I didn't revel in their suffering. It was just some primal urge. Every now and then when you see a long line of ants marching you just have to reach in and pick one. YOU, you say. And their body, half crushed by the mass of your finger, struggles against the inevitable fact that, for no reason at all, a choice was made, or it wasn't, but either way, there is no turning back. That's really what I'm getting at, I think, through all the shock. One moment everything is a certain way and the next it is completely different, and for no other reason than that you were picked out of a line because that's just how it is, how it will be, forever and ever, Amen.
My wife Sheila—she would have legally been my wife in three months but we had lived together for years—was broken just like one of those ants, a carcass tangled in the metal that used to be our new car. No more marriage planning, no more—well, none of it matters really. I reached down and pushed down, hard, on one of those ants. I picked his abdomen. It popped and spurted whatever ant abdomens contain onto the sidewalk, and he tried to drag the flaccid thing around for a while. Eventually other ants showed up to the scene and carried it off. I wondered if they were the cops and emergency personnel of the ant world, or if they just switched roles.
The cops wanted to know a lot of details that seemed pointless. What was the make of the third car that hit us? Where were we headed? I looked at him dully and said, "Her favorite flavor was mint chocolate chip." I couldn't think of anything else. Anyway, there were pieces of the car that hit us from behind scattered across the roadway. Did I look like a mechanic? It was a pileup. I remember the bus. The rest happened too fast.
Copyright© James Curcio. All rights reserved.
Buy from: